The rapid growth of Office365 SharePoint Online implementations and on-premise SharePoint deployments in enterprise organizations has started to present the growing needs for achieving compliance, eDiscovery, record management, and server storage reductions for SharePoint environment.

Organizations with SharePoint implemented have found the needs for centralizing their business emails, files and SharePoint documents on one archiving platform making all data conveniently and quickly discoverable electronically. MessageSolution Enterprise SharePoint Archive addresses these needs for enterprises and enables organizations to implement a high-performance SharePoint archiving and eDiscovery solution online as effortlessly as possible, with integrated modular archival options for all email platforms, file systems and SharePoint environments. MessageSolution SharePoint Archive entails rich and versatile technologies which significantly improve SharePoint server performance, captures data for record management, compliance as well as maintains easy and fast end-user access to the archived SharePoint files.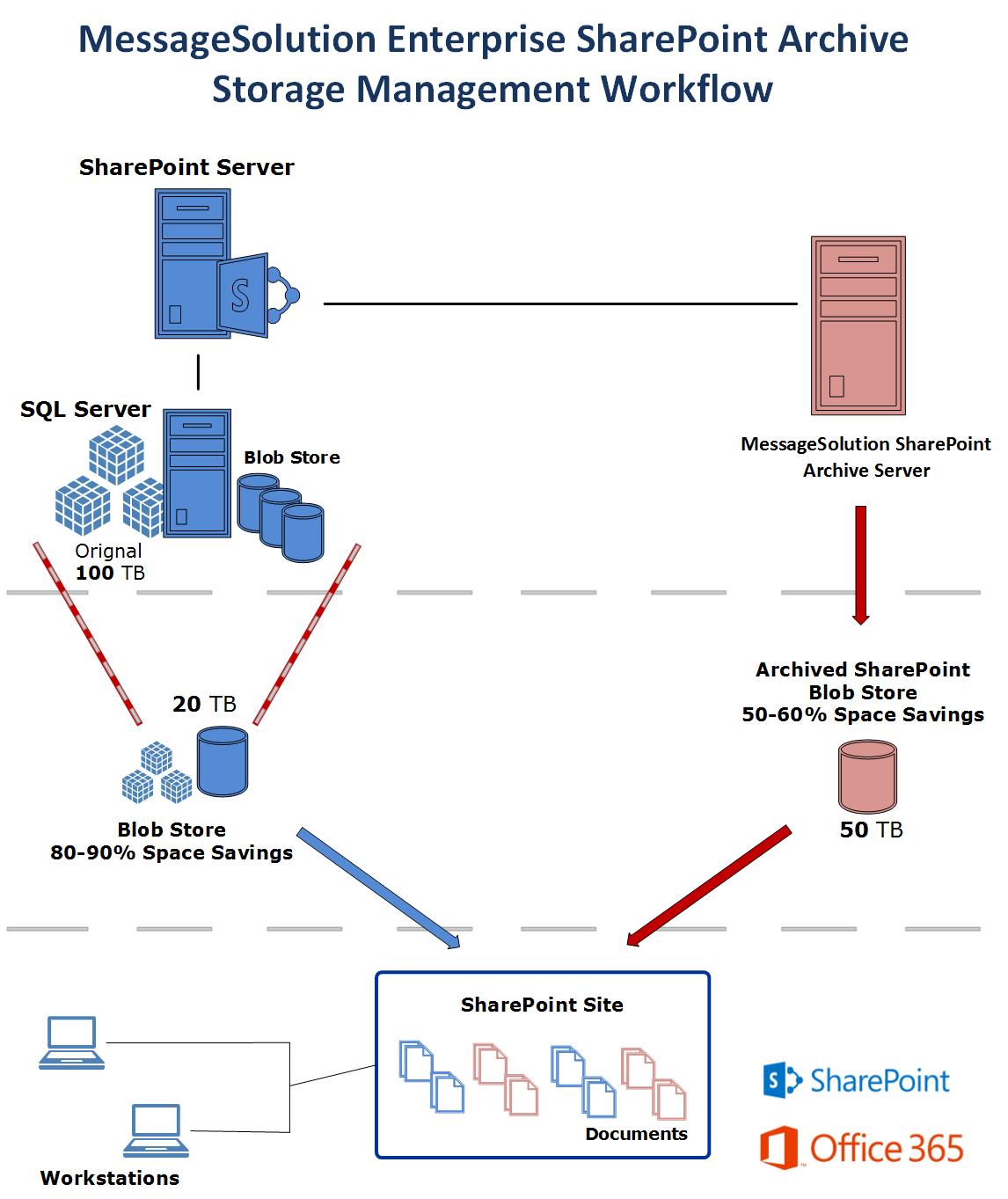 MessageSolution SharePoint Archive seamlessly offloads SharePoint files to significantly save SharePoint storage space while maintaining transparent user access to SharePoint documents, requiring no change in user experience, delivering true transparent and high performance SharePoint storage and database reductions.
MessageSolution also delivers enterprise class migration capabilities from various data sources to multiple email server platforms and hosted data environment. MessageSolution Enterprise Migration System allows companies to migrate data from public folders, file servers, ECM systems to SharePoint, as well as migrate email data from GroupWise Server and Domino Server to Exchange, Microsoft Office 365 (BPOS) and other major hosting email systems.
MessageSolution SharePoint Archive can be deployed standalone or in conjunction with MessageSolution Enterprise Email Archive and/or MessageSolution Enterprise File Archive. All archiving modules can be deployed on the same server, stored in the same repository for records retention, and accessed from the same web-based user interface, making data management, backup and data restoration faster and more streamlined while lowering storage costs by offloading SharePoint servers. MessageSolution also delivers the first in the market all-in-one email/file/SharePoint cloud archiving services for global companies that plan to outsource its archiving implementations.
MessageSolution SharePoint Archive Features:
| | |
| --- | --- |
| · | Offload SharePoint data for cost-effective storage devices to reduce storage costs |
| · | Capture and preserve all relevant SharePoint data for record management and compliance |
| · | Execute full-text indexing for high performance search and global single-instancing on all archived content |
| · | Centralized corporate email, file, and SharePoint archives in MessageSolution Platform to reduce time and costs for legal discovery requests |
| · | Reduce size and number of SQL Servers |
| · | Drastically improve SharePoint performance meaning less data is stored on SharePoint Servers after offloading SharePoint data to the archive server, with seamless end-user access |
| · | Improve SharePoint server manageability and free end-user quota limitation |
*Preserve all company SharePoint files and database for eDiscovery and HR record management (i.e. former employee's SharePoint Online account was deactivated. To further illustrate, former online account of employee would still have full records preserved in MessageSolution Archive)